Maximize Your iGaming Potential with Digitain's Comprehensive Platform
Digitain's iGaming Platform is a comprehensive solution for online casino and sports betting operators. It offers a wide range of features designed to enhance the player experience, increase engagement and drive business growth.  
With its user-friendly interface, operators can easily manage their operations across all channels and devices, using a single account and wallet. The platform also provides detailed player activity, game history, and transaction reports, enabling operators to stay informed about their business at all times.  
Additionally, operators can create a variety of promotions and bonuses to attract and retain players, such as free spins, cash-backs, and more.  
Overall, Digitain's iGaming Platform is a powerful tool for operators looking to streamline their operations and grow their business.
Bonus Engine
Today, in highly competitive iGaming industry, with many leading platforms fighting for the top spot, Bonuses have become vital for Players' engagement.  
With our flexible bonus tool with advanced triggering abilities, operators can develop their unique ways to effectively reward Players for their loyalty in proportion to the value they generate for business. 
Players will receive the bonus when they fulfill the trigger conditions included in the settings that allow you to:
Create bonuses based on players behavior, including multi-product & triggering mechanisms
Set limits on the min/max ranges and percentages per Currency to prevent scammers from using your offers.
Create your Campaign on your preferred Providers or Game segments as you wish
Manage the content of your bonus campaign per language to be displayed on your website
Automated Cashback
Sometimes when your luck turns against you, betting might become an expensive entertainment. However, losing doesn't sound bad when you know you're getting some of that money back.  
Our Automated Cashback functionality allows Players to automatically recoup a specific percentage of the amount they have lost while betting during a particular period.  
Our flexible tool offers a wide range of configurations:  
Through different Calculation Types, you can set Cashbacks based on Players' betting performances.
Setting the Amount ranges, you can configure the Cashback percentage for each range separately.
You can create your Cashback rules on your preferred game Segments.
Set Verification Conditions
You can Include or Exclude a specific Player Category or an entire Segment to be eligible for Cashback.
Game and Lobby Management
Our Game and Lobby Management tool is just a glimpse of what we offer our clients. Our solution can help you build the fully functional Backoffice you need to equip your website with our live dealer games, slots, virtual sport, tv games and fast games.  
Within a few steps, you can configure a fully customizable game lobby from scratch to create the site you wish to offer your customers.
With ever-increasing numbers of games, our configuration tool helps to effectively localize data-driven, personalized content for players providing them with a better and more exciting gaming experience.  
Page Management
Given the flexibility of our widget-based Page Management tool, we empower you to build your unique webpage and expand it with numerous new styles and view options.  
Start with creating your Products and setting your preferred configurations; choose where and how you want your menu items be displayed on your web page. All set? Now you can highlight the ones you want your Players to focus on. 
Other widgets, such as Jackpots, Games, Sports Top Matches and Banners, can be added to your page within one click. And just like that, you have your fully-fledged custom web page ready to use.  
Once built, you can edit and restructure your web page quickly and easily. You can customize the names, ordering and styles of each content item. As well as diversify content per country, language, client category and currency to cater better to the needs of Players.  
Responsible Gaming
We offer you a set of social responsibilities possibly to be configured both by users and players themselves as a preventive measurement of keeping online gaming safe for moderate and high-risk players. 
Here are several types of responsible gaming that will help players to manage their gambling activities: 
Deposit Limits
Reality Check
Self-Exclusion
Time Out
Bet Limit
Net Loss Limit
Promotion tool
Our Promotion tool is a complete list of rules and features that allows you to create Monthly or Weekly promotions and engage more Players. 
The tool features a Progress Bar with checkpoints, where players can advance by wagering on specific games and win prizes through the Lucky Wheel that adds more excitement to this function. 
Is one wheel not enough? You can add the VIP Wheel to make the experience more fascinating and offer a larger spectrum of prizes. Additionally, the tool offers a Buy Bonus feature, where players can pay for immediate access to the Lucky Wheel. 
0

+

Real Live Monthly Events
0

+

Pre-Match Monthly Events
0

+

Leagues
0

+

Betting Markets
0

+

Sports
0

+

In-House Traders
0

+

Software Developers
Turnkey Solution
Digitain's comprehensive and cutting-edge platform that brings together a range of top-notch solutions tailored for your every betting and gaming need. We take pride in offering an all-in-one Turnkey solution, featuring an array of services including Sportsbook, Casino, Payment Gateway, Sports Data and Statistics, and Enterprise tools, available across mobile, desktop, and retail channels.  
Digitain's Sportsbook software caters for International, European, American, African and Asian Agent-based operators. It provides a comprehensive multi-lingual, multi-currency customizable interface that can easily integrate using the Digitain API's with an existing platform, whether you are an online or mobile focussed casino or operator.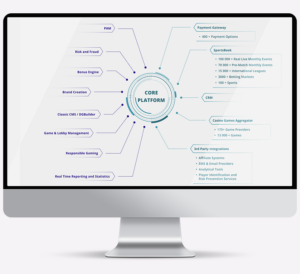 Game and Lobby Management

Real Time Reporting and Statistics

Classic CMS and DGBuilder