Digitain's sportsbook software caters for International, European, American, African and Asian agent-based operators. It provides a comprehensive multi-lingual, multi-currency, customizable interface that can be easily integrated using the Digitain API's with an already existing platform/start-up, or whether you are an online casino operator or land-based sportsbook vendor.
In a revolutionary move for sport and gaming, our team will provide real-time odds in collaboration with a major national operator to deliver the first worldwide Table Football match that offers live betting.
Testament to our reputation as one of the world's most innovative sportsbook providers, the deal will bolster our industry-leading credentials further by pioneering yet another new vertical. With several entertaining games played in parallel every 15 minutes during a week-long competition totaling 800 matches, betting markets are available for all domestic and international customers. Hosting the matches in our own state-of-the-art studio, we are also set to live stream the event in conjunction with other international sporting fixtures, with plans to collaborate with upcoming international tournaments to take its offering worldwide.
Participants from our international operator network will also be able to get in on the action as it goes global with both pre-match and live betting for Table Football in 2020.
TABLE FOOTBALL ODDS FEED
Odds Feed for the Industry's First Table Football
In a REVOLUTIONARY move for sport and gaming, leading platform provider, Digitain, is providing real-time odds to deliver the FIRST WORLDWIDE TABLE FOOTBALL match that offers live betting. We have created the world's first table football odds calculator with MORE THAN 60 MARKET TYPES such as:
Results

Totals

Handicaps

Individual totals

Correct score
+ DE 3000 PARTIDOS DE TORNEO EN VIVO POR MES:

+ DE 60 JUGADORES PROFESIONALES Y ÁRBITROS:

2 TORNEOS Y CADA UNO CON 2 DIVISIONES:

+ DE 3000 EVENTOS EN VIVO:

800 PARTIDOS POR SEMANA:

APUESTAS PRE-MATCH Y EN VIVO EN + DE 60 MERCADOS:
3000+ LIVE TOURNAMENT MATCHES PER MONTH

60+ PROFESSIONAL PLAYERS AND REFEREES

2 TOURNAMENTS EACH WITH 2 DIVISIONS

800 MATCHES PER WEEK

MATCHES EVERY 15 MINUTES

PRE-MATCH AND IN-PLAY BETTING ON 60+ MARKETS
QUICKLY INTEGRATE A NEW SPORT TODAY!
EVENTS

SCORE

ODDS

TRANSLATIONS

SETTLEMENTS

We have a dedicated team along with dedicated account managers available 24/7 through chat and email support to provide technical and general support
Digitain is using the latest technology; the odds feed is delivered through web socket, making sure all odds changes are delivered to the recipient with 100% accuracy. The delivery time from price generation to your systems is less than a second
Our in-house team of traders and developers with comprehensive knowledge in data gathering, odds algorithms, market marking and breadth of expertise in sports betting and sportsbook make us truly effective at what we do.
Operators can control margins from the odds feed back-office from sport type up to market level.
Integration with your existing sportsbook platform.
Account managers available 24/7 through chat and email support to provide technical and general support.
PRODUCT HIGHLIGHTS
Pre-Match and In-play betting on 60+ markets
Comprehensive Player Statistics
2 Tournaments Each With 2 Divisions
Real Professional Players
Pre-Match and In-play betting on 60+ markets
Comprehensive Player Statistics
2 Tournaments Each With 2 Divisions
Real Professional Players
Odds Feed for the Industry's First Table Football
In a REVOLUTIONARY move for sport and gaming, leading platform provider, Digitain, is providing real-time odds to deliver the FIRST WORLDWIDE TABLE FOOTBALL match that offers live betting. We have created the world's first table football odds calculator with MORE THAN 60 MARKET TYPES such as: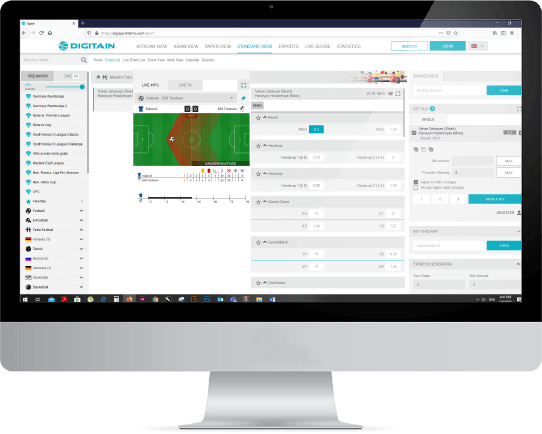 Margin Control

Widely use in Asian countries. China in particular